Things to Consider When Choosing a Pediatrician Q&A
When choosing a pediatrician, consider their experience, reputation, kid-friendly attitude, convenient location, and complete services. At Julia Barriga, we provide comprehensive services for your child and have a convenient location in Tampa, FL. Our pediatrician, Dr. Julia Barriga, M.D., and her team of pediatricians are board-certified and highly skilled. With their passion and skills, you can feel assured that your child will be in safe hands. We are conveniently located at 5001 East Busch Blvd Tampa, FL 33617. For more information, contact us or schedule an appointment online.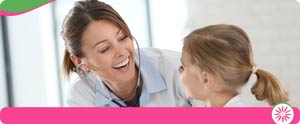 Table of Contents:
What should you consider when choosing a pediatrician?
How your doctor interacts with your newborn?
When should I consult a pediatrician about my newborn?
A pediatrician is a medical practitioner that has a high-level specialization in examining, diagnosing, and treating children. This can range from prenatal care all the way up to adolescence, providing exceptional medical insight into the physical, emotional, social, and psychological aspects of development. They are also a valuable resource to parents, answering any questions that they may have and providing the support they need to help them flourish.
At Julia Barriga, our pediatric team is committed to the highest level of care and comfort at every step of your child's development. We offer comprehensive medical services to ensure health and wellness at every stage. Contact us today for more information about our pediatric services and/or our talented pediatric professionals, or you can book online to schedule an appointment at your earliest convenience.
What should you consider when choosing a pediatrician?

It's incredibly important to choose a pediatrician that you feel comfortable having open and honest conversations with. You should be able to talk to them openly about your child, their medical history, and all aspects of their physical, psychological, and emotional development. You should also feel safe and secure asking them any questions that you may have about your child, their health, and well-being, as well as asking for parenting strategies/recommendations.

When choosing a pediatrician, consider the following:

• Communication. It's important that both you and your child feel safe and comfortable during your scheduled appointments. A professional pediatrician will always encourage questions and answer them in an easy-to-understand way.

• Education. It's important that the pediatrician you're seeing is board certified. This means that they've completed the highest level of educational and practical training and that they're continuously staying current on the latest studies and practices.

• Experience. Outside of their education, your pediatrician should have ample training and hands-on-experience experience when it comes to pediatric care. Always check to see where your pediatrician has practiced and for how long.

• History. It's important that you screen your potential pediatrician. This should be provided upfront upon request or can also be found on your state's medical practice website. Ensure that your pediatrician has no history of disciplinary action or malpractice.
How your doctor interacts with your newborn?

Your pediatrician should have regular interactions with your newborn that are scheduled at pre-determined points. The first of these visits should take place within the first 3-5 days of your baby having been born.

During these scheduled pediatric visits, your specialist will assess and check your baby's health by performing a comprehensive wellness check. This includes:

• Measuring head circumference.
• Measuring weight and length.
• Checking their vision and hearing.
• Checking their reflexes.
• Asking you about different aspects of your first few days with the baby.
• Collect details about your baby's eating and sleeping patterns.
• Talking to you about what's upcoming in your baby's healthcare journey.

The first few years of your child's life play a huge role in their development. This is why regular visits with your pediatrician are so important so that they can keep tabs on their health and wellness and catch any potential issues as soon as possible.

Your pediatrician will keep a detailed medical record for your baby, including a tally of their immunizations, all growth information, current and past medications/treatments, and any current or past medical conditions.
When should I consult a pediatrician about my newborn?

Medical practitioners recommend beginning to look for a reputable pediatrician approximately 3 months before your baby is due to arrive.
Babies, even when perfectly healthy, require frequent wellness checks and immunizations. In fact, their first checkup should be 3-5 days after their arrival, meaning it's important to have someone in the wings very quickly after your baby is born.

In addition to the set of pre-determined visits set out by your pediatrician, you'll also want to reach out to them if you suspect that your newborn is experiencing medical issues. Indicators of a sick or unwell baby include:

• Appearing flushed.
• Appearing pale.
• Behaving patterns that aren't normal for them (e.g., fretful, listless, irritable).
• Being unusually quiet.
• Difficulty being comforted.
• Feeling hot to the touch.
• Increased or non-stop crying.
• Not wanting to eat and/or drink.

If you're unsure about your newborn's symptoms, connect with your pediatrician or their office team. They will be able to confirm if your newborn's symptoms require an in-person visit or if at-home remedies will be enough. They may also direct you toward pediatric urgent care or the emergency room should they deem it medically necessary.

If you're looking for an experienced, empathetic, and knowledgeable pediatrician, look no further than Julia Barriga. Our pediatric team always puts the health and wellness of your little one at the forefront of every visit. We are conveniently located at 5001 East Busch Blvd Tampa, FL 33617. For more information, contact us or schedule an appointment online. We serve patients from Tampa FL, Terrace FL, Thonotosassa FL, Lutz FL, Greater Carrollwood FL, Lake Magdalene FL, Westchase FL, and Town 'N' Country FL.