Pediatric Injury Treatment Questions and Answers
For first-rate pediatric injury treatment in Tampa, Florida, we welcome you to come to Julia Barriga M.D. P.A! Our compassionate team of medical professionals have years of experience in treating injuries. For more information, please call us or book an appointment online.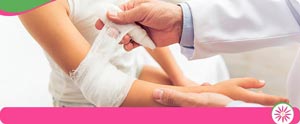 Children are both fragile and resilient, as they have an incredible capacity to bounce back from significant injuries without lasting effects. At the same time, their health and well-being are precious to us! With that in mind, it is important for children to receive proper pediatric treatment when they experience various injuries, as their bodies are different in several ways from adults. As such, if your child has experienced an injury, we would be pleased to provide your child with caring and high-quality pediatric care at Julie Barriga, MD.
What is pediatric trauma?
Pediatric trauma refers to any type of traumatic injury that happens to an infant, child, or adolescent. As such, pediatric trauma can include injuries such as fractures, choking, drowning, burns, cuts, and sprains. The most common causes of pediatric trauma are falls, but other common causes include bike accidents, motor vehicle accidents, or sports injuries.
How do children deal with injuries?
In general, children respond to injuries with more intense emotions than adults, often causing them to feel frightened or unsafe due to minor injuries. At the same time, children usually heal quicker and have more flexible bones than adults, which can reduce their risk of experiencing a fracture.
What is pediatric treatment?
Pediatric treatment refers to the medical care of any child from birth to adolescence. With that in mind, it involves the treatment and management of various injuries and illnesses by a medical doctor known as a pediatrician.
What are some common injuries in infants?
Children are considered infants from birth until they are one year old. As such, there is plenty of physical development that happens during that time. Moreover, as infants are figuring out how their new bodies work, there is lots of potential to experience various injuries due to falls or other mishaps. While most infant injuries are not severe, it is important to take extra caution to prevent such injuries from occurring and provide appropriate care when they do occur. With that in mind, some common injuries in infants include the following:
Burns from steam, hot water, or too much sun exposure
Choking on food or small objects
Eye injuries, including black eyes
Fractures, particular a broken collarbone (clavicle), but also elbow, wrist, leg, or finger fractures
Head injuries, including concussions, bumps, or bruises
While it is important to take any infant injury seriously, it can be difficult to know when the injury warrants a pediatric visit or a trip to the emergency room. With that in mind, some signs that you should take your infant to the ER for an injury include the following:
Bulging fontanel, which is the soft spot on an infant's head
Difficulty moving their eyes
Extreme pain, discomfort, and sensitivity
Multiple bouts of vomiting
Paralysis
Seizure-type activity
Significantly pale appearance
Two black eyes
Undetectable or weak pulse
How are children's injuries treated?
Treatment for children's injuries involves medical attention for the physical injury and comforting and soothing the child's emotions. Since children are more prone to experiencing a traumatic response to injury, it is important for them to feel safe and assured that they will be okay.
At the same time, treatment for children's injuries ultimately depends on the specific injury they have experienced. For minor injuries, treatment typically involves the RICE method, which involves resting, icing, compressing, and elevating, the injured area.
For an appointment or more information on how we treat children's injuries at Julie Barriga, MD, we welcome you to call us or schedule an appointment with us right here on our website. You can find our pediatric clinic at 5001 East Busch Blvd in Tampa, Florida. We serve patients from Tampa FL, Terrace FL, Thonotosassa FL, Lutz FL, Greater Carrollwood FL, Lake Magdalene FL, Westchase FL, and Town 'N' Country FL. Looking forward to serve you!